UPDATE: It seems that I have two issues at hand. Although I do have squash bugs, they have not been causing the damage I believed them to be. A reader was very helpful in pointing out that the problems I am having are more likely to come from Vine Borers! Although I do have the Squash Bugs, I haven't seen any damage that is associated with them. (Not that I'm gonna let them continue eating my plants! lol) Please see the comment below by "elle mental" for a wonderful explanation and solution if your vines are being eaten from the inside out by Vine Borers.
I cannot believe it has taken me this long to figure it out. For the last few years, I have been so frustrated with my squash crops.
This year I have finally figured out what is wrong! Squash Bugs are my nemesis. I was checking out some favorite Facebook page and saw someone reference the little "stink bug look alikes" and decided to check mine for them. What did I find? Armies of little bugs eating up my squash plants!
Since then I have lost one of my plants, and I don't think my others will survive the season. I am so grateful to finally know what was causing the sudden die off of my plants though. Since I discovered them, I have been picking off the visible bugs, toss them in a cup of water and feed them to the chickens. Boy did they enjoy that! Some other ideas I have found for ridding your garden of Squash Bugs without insecticide are:
Use duct tape to peel the eggs off before they hatch
After watering, walk through the plants and pick off the bugs. They will climb to the top when the plant is soaked from the water.
Use a mixture of Dawn/water in a spray bottle and spray the base of the plant where the bugs live. It supposedly kills them in seconds. I have not tried this method.
The main thing to remember is to start preventing them early! If I had realized what was attacking them earlier, I could have saved my plants. Now I know what to do next year. This is what I love about gardening, everything is a constant learning process!
Linked to: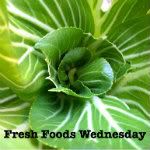 Frugally Sustainable